| | |
| --- | --- |
| | |
| | |
"The Heartbreak Grill And Bar" online CD Reviews: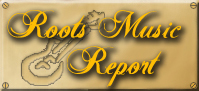 Attention honky-tonk music fans! Mike Clifford's newest release, The Heartbreak Grill and Bar, is an absolute must hear. The 11 tracks on this CD vividly demonstrate the immense talent of Clifford as they run the gamut of all the things that are good about country music.
The first thing that strikes you as you listen to Clifford is his distinctive voice. He exhibits excellent versatility as he puts his heart and soul into each of his songs and sounds equally comfortable whether he is singing a soft melody or belting out a faster paced tune. He also possesses a very impressive vocal range, moving up and down the scale with remarkable ease and clarity.
Clifford is a very gifted song writer, as well. Writing 10 of the 11 songs on the CD, each number spins a great story, captures the listener's imagination and leaves you wanting more. Still another great feature of the songs on this CD is the "dance ability". As you listen to these tunes, you will find yourself clamoring for the dance floor. The music just makes you want to move.
- Brenda Barbee - RMR Staff Reviewer
View this review on the web by clicking here

"The Heartbreak Grill And Bar" is the third album from Mike Clifford that I have had the honor of reviewing. Mike has once again made me sit up and take notice as he brings his brand of Honky-Tonkin-Country-Rockin' music to the forefront. Mike has been around, and calls Austin Texas home, and after hearing all three albums, of which Heartbreak Grill and Bar is the strongest, Mike Clifford is completely at home in a state and city that doesn't put a certain :"BRAND" on their music. This is Texas, this is pure country fun, this album even rocks harder than some so-called "Rock" music.
I was won over by Mike Clifford. His first CD "Welcome to the Other Side" showed his potential that got ironed out more on "All Night All Day", and now Mike Clifford has found his musical home. No, you won't be able to pigeon hole the style or sound, but you will fall in love with it if you are a fan of country or roots music. Drivin' riffs and heartfelt ballads.... choruses that you'll be singin' along to in no time flat, it's all here in fine style.
From the opening of Heartbreak Grill and Bar to the final note of Something Deep Within Me, Mike Clifford serves up a winning disc all around. Don't consider the CD price a cover charge, cuz' their ain't none at the Heartbreak Grill and Bar, more like a donation to a worthwhile musical cause - TRUE and HONEST music! Tracks like My Heart's Got A Mind of it's Own featuring Pauline Reese, It's All Texas Music to Me, or Lightning in a Bottle will win you over too. Check it out for yourself....

Mike Clifford - The Heartbreak Grill And Bar from Jennifer Webb
(out of 5)
If you want an album full of good quality music that isn't a carbon copy of everything else out there on the radio, then you should try 'The Heartbreak Grill And Bar.' Mike writes his own music and you can tell he is an original. He knows what he does best and he does it very well.
The Heartbreak Grill And Bar 'The Heartbreak Grill And Bar' is the second Mike Clifford album I've had the chance to review & it is even better than the last. He still has a rockin' edge to his country music & the fact he writes ten out of eleven songs is very impressive. With the album being a "Texas Dancehall Concept Album," all I have to say is that any dancehall would be lucky to have Mike Clifford perform there - it's that simple.
The album's title track, "The Heartbreak Grill And Bar," is about a place where there's no cover charge & the heartbreak also seems to be a freebie. Pauline Reese joins Mike on the song, "My Heart's Got A Mind Of It's Own." Though the man tells his heart to "take it slow" it won't listen to him & he falls for someone once again. Pauline's weakness in the song seems to be baby blue eyes because they cause her to "cross over the line." "It's All Texas Music To Me" is about how Texas music, & music in general, somehow gets caught up in different "sub-genres." Why label music? You like what you like.
"Hand Me Down Love" is a slower song about a man who thought he'd found his true love until she used his love & tossed it aside. The next song is about a man who knows his lady will always come back after a fight so he calls her his little "Boomerang." "The best part of fighting is making up the very next day," Mike sings. In "Family Reunion" you realize a get-together wouldn't be complete without a little bit of food, beer, & family members reliving the past.
View this review on the web by clicking here
Review From Albert Roch at Dimelo Country, Spain (June 2006) - translation below review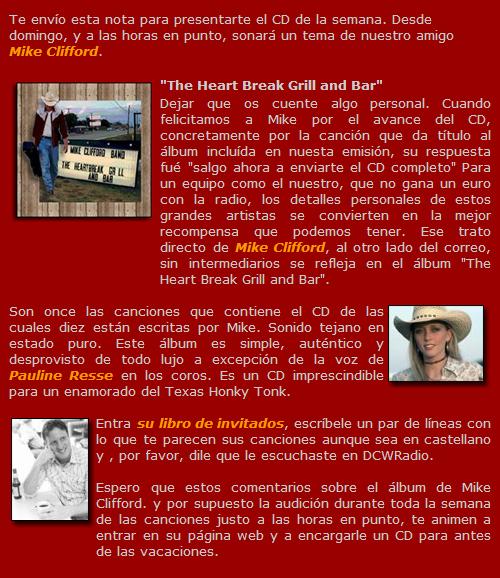 Leaving says something personal. When we congratulated Mike on the advance CD, especially on the song that gives the title to the album included in our package, his answer went "I'm going now to mail the complete CDs." For a team like ours, that does not earn a cent from the radio, the personal details of these great artists become our major compensation. That kind of treatment from Mike Clifford, on the other side of the mail, is reflected without intermediaries in the album "The Heartbreak Grill And Bar."

The CD contains eleven songs, of which ten are written by Mike. "Texas" sound in its pure form. This album is simple, I assure you, and lacking all luxury with the exception of the voice of Pauline Reese in the chorus. It is an essential CD for a lover of Texas Honky-Tonk.

In his guest book, drop him a couple of lines about what you think about his songs, even if it is in Castilian and, please, tell him that you listened to him on DCWRadio.

I hope that these comments about Mike Clifford's album, and of course hearing throughout the week the songs every hour on the hour, encourages you to visit his Web page and order a CD from him before the holidays.
Review From Kai Ulatowski at Western Mail Magazine, Germany (Oct 2006) - translation below review

With his third CD Mike Clifford has made his mark as an excellent Honky Tonk singer. The songs were all written by him, the only exception being 'Something Deep Within Me, a thought-provoking ballad.

The 11 song album begins with 'The Heartbreak Grill and Bar'. 'My Heart Got's a Mind of It's Own' - Pauline Reese is a guest on the song...it sounds great! Pauline also sings duet on 'All Texas Music To Me'. 'Lighting In A Bottle' is crisp and with a good harmonica.

This is Real Honky Tonk music out of Texas, far and away above the Nashville Machine.

Review From Lars Kjellberg, Kountry Korral, Sweden (Oct 2006) - translation next to review
This album from a good singer named Mike Clifford, also the writer of most of the songs, comes from Austin, Texas. Pauline Reese, who visited Furuvik a few years ago, handles the background vocals and also sings a duet with Mike. Mike Daily, from George Strait's band plays steel and Haydn Vitera, earlier with Asleep (at the Wheel), is heard on the fiddle.

Among the best tracks are the honky-tonk flavoured title song "The heartbreak bar and grill", the duet "My heart's got a mind of it's own" and the sad songs "That used to be", "Hand me down love" and "Lonesome boulevard".

A few songs seemed not to fit in with the rest, "Boomerang" and the finishing "Something deep within me", I would have preferred to hear something else instead of those.

Overall a good album though, with many nice tracks.

LARS KJELLBERG

KOUNTRY KORRAL MAGAZINE

Mike Clifford - Review of the single "It's All Texas Music To Me"
I dare you to take one listen to this song and not at least tap your foot to the beat. It's impossible! This is one great Country song that says it like it is; no matter if you call it Red Dirt Music, Americana or Western Swing… it is all Texas music. The song itself sounds like something that Waylon would have cut in the late 1970s, and in my book that is a great thing. So put this one on your station now and let your listeners tell you how great it is.
Review from Dave Hitt, DJ at www.alwayscountry.net
I'm very happy to provide this review of Mike Clifford's new CD "The Heartbreak Grill And Bar". Overall, I think it's a great CD… It covers all 5 of the important themes of country music that Mike mentions on his website… dancin', drinkin', fightin', lovin', and leavin'… now that's what I call real country music!
My favorite tracks are the title track/opener "The Heartbreak Grill And Bar", "It's All Texas Music To Me" and "Lighting In A Bottle", but really I enjoy them all. The Heartbreak Grill and Bar is a must-have for any fan of traditional country music. Mike wrote the first 10 songs and Jay Johnson wrote the last tune. There's plenty of ace musicians contributing, including Texas artist Pauline Reese, who sang 2 duets with Mike… Pauline also sang backup on 7 other tracks.

The first single "It's all Texas Music To Me' is being played on scores of radio stations already, including Always Country of course! The Heartbreak Grill and Bar is definitely worth checking out… you can preview all 11 songs on Mike Clifford's official website www.mikeclifford.com by going to the Music page, or go to his Myspace site www.myspace.com/mikecliffordtxmusic to hear 4 complete songs.
"All Night All Day" online CD Reviews, click here